The Surrey Fire And Rescue Service Awards And Commendations
On 22nd September Dorking Halls again held this annual ceremony at which the bravery, hard work, and long-standing commitment of men and women to the SFRS is recognised. Many family members of those being honoured in this way were present and saw Brigadier Roger Hood DL, HH Christopher Critchlow DL the High Sheriff of Surrey, the Chairman of Surrey County Council Helyn Clack, and Councillor Denise Turner-Stewart, the SCC Cabinet Minister for Communities and Community Safety, each give short addresses before making the presentations.
First of all, however, Acting Chief Fire Officer Dan Quin handed out BFSA (British Fire Service Association) Medals to those who have given 10 years of Service.
Long Service and Good Conduct Medals were presented by Brigadier Hood DL to those operational staff with 20, 30 and 40 Years of Service. Non-operational staff received awards from the High Sheriff for 30, 35 and 40 years of service, as did volunteers of 5 and 10 years of service. 
Commendations for Meritorious Action and Conduct were given out by Councillor Turner-Stewart. The Kirkpatrick Award, in memory of a Surrey firefighter who died tragically young, was given by the SCC Chairman to the year's leading recruit. The final award was the Chief Fire Officer's Award, which went to Peter Hills, a volunteer who has given continued and exceptional dedication to the Service. Team awards were also given out for excellence and professionalism.
The bravery of members of the public was also recognised. Captain Rod Robinson, aged 83, received an award for his outstanding bravery when, on 8th January 2022, he suffered burns to his hands and smoke inhalation (requiring a stay in hospital) when trying to save the resident of a flat in Godalming. Derek Pullen, another member of the public, brought an elderly woman out of a ground floor window of a house on fire and saved the life of an elderly person in the smoke-filled property by bringing him out over his shoulder.
The citations read out were a great tribute to the members of the SFRS who stepped onto the stage to receive their medals, awards and certificates. The evening also made those not part of the Service appreciate how well-trained, fit and disciplined are those working in this vital area of the Emergency Services and also how efforts are always being made to improve efficiency.
This was an evening for reflecting upon the dedication and bravery of those working for the Service, and the residents of the County can be justly proud of them.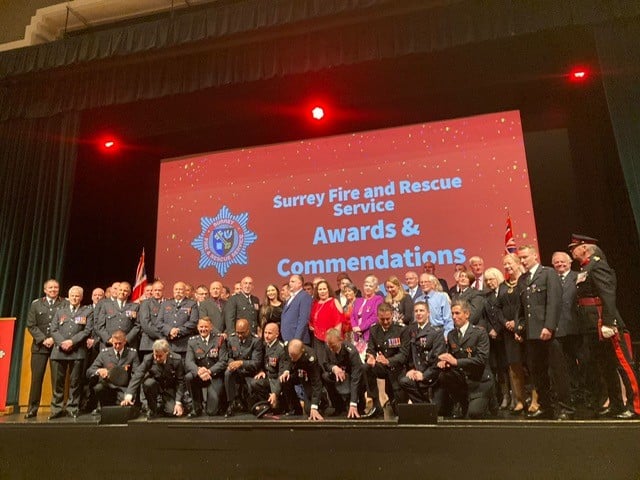 https://www.highsheriffofsurrey.com/wp-content/uploads/2022/09/1-6.jpg
480
640
Olivia Lucas
https://www.highsheriffofsurrey.com/wp-content/uploads/2021/07/TheHighSheriffofSurrey-weblogo.png
Olivia Lucas
2022-09-22 14:26:00
2022-09-23 14:31:40
The Surrey Fire And Rescue Service Awards And Commendations