KSS – Kent, Surrey And Sussex Air Ambulance
On 22nd September the High Sheriffs of East Sussex (Mrs Jane King JP) and West Sussex (James Whitmore) and Surrey much enjoyed a joint visit to Redhill Aerodrome where the CEO of KSS, David Welch, welcomed them and gave a presentation about the work that is done by this charity, kindly answering a large number of questions. Then they were given a guided tour of the base by Allan McHenry the Operations Manager, and saw the Ops room before going outside to look at and learn about the helicopters and their equipment.
KSS is a charity and it's existed for 33 years. It covers nearly 7,500 square kilometres and its annual running costs of over £15m are 86% funded by donations and fundraising. Each year they respond to over 3,000 incidents. They are a tightly-knit, highly dedicated team whose reputation for excellence in all they do to help to save lives is known throughout the south-east by all who have witnessed them in action. They operate every hour of every day of the year, with two crews on duty for 18 hours and one crew for the remaining 6 hours. The team will include the pilot, a paramedic, a doctor, usually a specialist in anaesthesia or emergency medicine. They bring the emergency room to the scene, and they can perform open-heart surgery, blood transfusions and deliver anaesthetics wherever they attend.
Three helicopters are usually available to fly to any location in the three counties (and if necessary to support services in London and elsewhere in the Home Counties) at a moment's notice, as pilots and a medical team are always on call, so enabling night flights. The aim is to be airborne within 5-6 minutes of the receipt of an emergency call and soon flying at speeds up to 170mph. Not surprisingly, this sort of operation requires the best equipment and the highest skills from all involved, as lives are at stake; minutes may be crucial, and those in the team can make the difference between life and death. They can also ease the pain and suffering of those whose injuries may prove to be fatal. The High Sheriff has heard from those who work for other Emergency Services just how highly valued are those from the KSS.
At their base there is a simulator of the inside of their air ambulance, the only one in the country. Those new to the work can undergo highly realistic training in it, with realistic situations created which will help prepare them for their work or hone their skills.
While on site, the two Italian helicopters went off to separate incidents, both in Kent.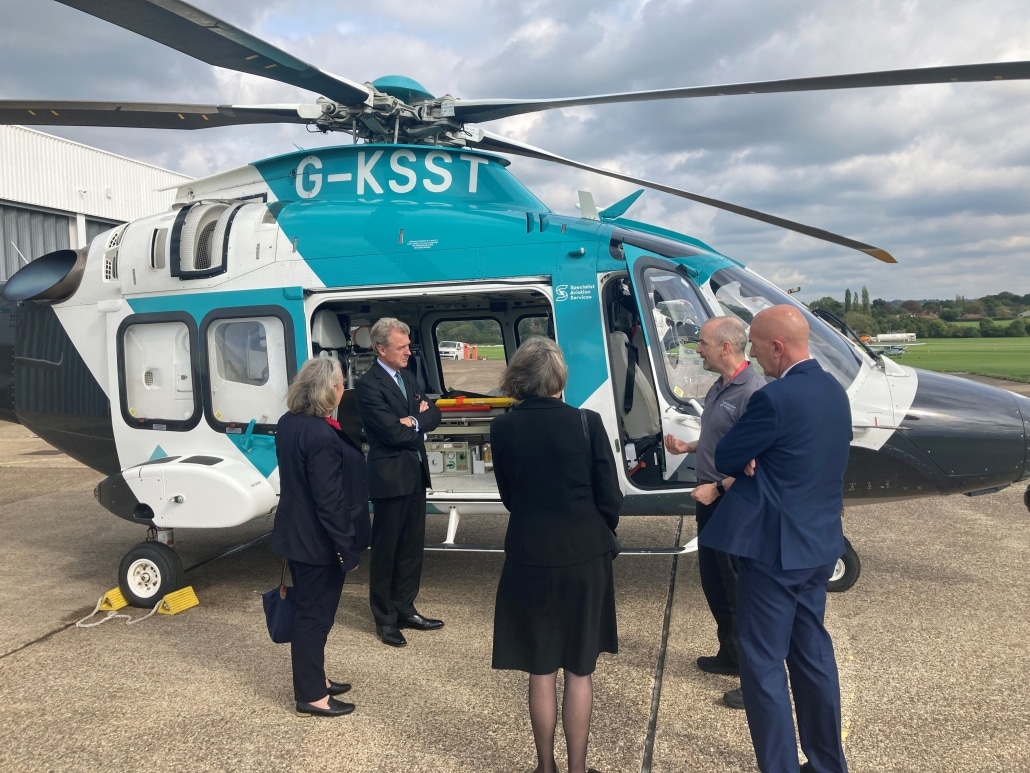 https://www.highsheriffofsurrey.com/wp-content/uploads/2022/09/1-7-scaled.jpg
1536
2048
Olivia Lucas
https://www.highsheriffofsurrey.com/wp-content/uploads/2021/07/TheHighSheriffofSurrey-weblogo.png
Olivia Lucas
2022-09-22 20:47:00
2022-09-27 20:50:44
KSS – Kent, Surrey And Sussex Air Ambulance