Visit to Guildford Crown Court
The High Sheriff, the former Resident Judge of the Crown Court from 2008-16, made a nostalgic return to it on 25th April and enjoyed a happy reunion with the members of staff and judges with whom he formerly worked. The staff have had to cope with various changes in their working conditions and practices these past few years, the result of a number of factors: cuts to the number of Court business sitting days; the reduction from five to four in the number of full-time judges at the court; the impact of Covid and the difficulties of running trials and hearings when victims, witnesses, advocates, jurors or the staff themselves have been taken ill. The pandemic brought adjournments, the need for the relisting of cases, often months into the future, and the occasional abandonment of trials. On a positive note, the greater use of video links for many hearings was helpful. Furthermore, the Court has adapted and has coped better than many it would seem, from the reports of its handling of its caseload, and the number of its outstanding cases. That is a tribute to HHJ Fraser MVO DL, the team of judges he leads and the dedication and hard work of the staff. However, there is now a further difficulty for the List Officer, and the disposal of cases and their timely resolution, that is the result of the Criminal Bar's action in protest at the rates of Legal Aid remuneration and its policy on taking return briefs. Furthermore, at times there is a shortage of prosecutors which leads to the postponement of cases.
These are testing days for all involved in the administration of criminal justice. Delays in the listing and therefore the resolution of trials is no good for anyone who wants justice to be done and done expeditiously. Victims of crime and witnesses grow frustrated by the many months of waiting. It's hard for some not to give up on their case, especially when there are eleventh hour postponements.
After being welcomed by Judge Fraser, the High Sheriff spent a morning in Court observing a trial presided over by HHJ Black before having lunch with the judges. Thereafter, he talked with the senior probation officer. The failure of the changes to the Probation Service that were introduced a few years ago has meant a return to the former practices. This has improved matters considerably.
Guildford Crown Court, as the only Crown Court in the County, has long sought to give the best service it can to the citizens of Surrey, to victims of crime, and to the administration of justice for the good of all. It is plainly striving to do that despite everything with which it has had to contend and notwithstanding the current challenges.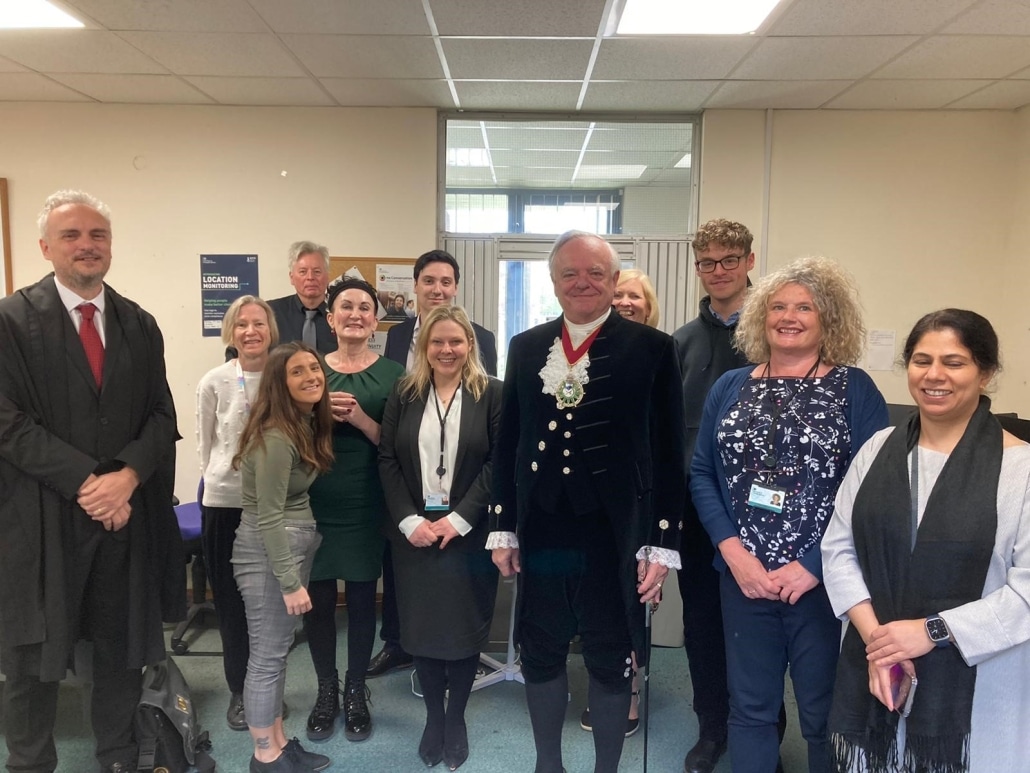 https://www.highsheriffofsurrey.com/wp-content/uploads/2022/04/Crown-court.jpg
1200
1600
Olivia Lucas
https://www.highsheriffofsurrey.com/wp-content/uploads/2021/07/TheHighSheriffofSurrey-weblogo.png
Olivia Lucas
2022-04-25 22:41:00
2022-04-25 22:41:02
Visit to Guildford Crown Court