Firefighter Passing Out Ceremony, Wray Park Centre Reigate
On a beautiful Sunday morning, the Chief Fire Officer Steve Owen-Hughes welcomed the Lord Lieutenant, the High Sheriff, the Chairman and Leader of SCC, and other guests and family members of those passing out, to events demonstrating some of the training the recruits had undergone during their 14-16 week tough training course. With Watch Commander Mike Phillips describing what each exercise entailed, the audience watched a House Fire Demonstration where smoke poured out of a building and firefighters wore breathing apparatus to enter and extinguish the fire. An Open Water Competition Drill followed, between two fire tender teams racing to set up and knock over cones at different levels of a tower – a close run thing. The Jubilee Celebration Display involved ladders being raised high to allow entry into two towers and the power and force of the water was impressive. The recruits have to learn much about the technical matters behind what they do physically when deploying such forces of water. When there are suspicions that a fire was arson, a highly trained dog, of which there are three in the county, can assist in discovering any accelerant. We watched Suki sniff out on the parade ground in under a minute a tiny cotton bud bearing an accelerant. It would have been virtually invisible to the human eye and could have taken many human searchers a long time to find.

Having changed into Full Undress Uniform the 26 recruits, of whom 5 were women, were inspected. As one of those privileged to talk to some of them and their instructors, the High Sheriff found it a pleasure to learn why they had become firefighters. Some came from a firefighting family or had wanted to have such a career from an early age. Others had worked in an office and wished to do something more exciting or to have a more worthwhile occupation and work as part of a team. One had been a Royal Marine for 15 years.

The Surrey Fire Service is a highly trained body of dedicated professionals who respond to emergencies where their skills, teamwork and leadership may well make the difference between life and death. The recruits are fully entitled to be proud of what they will do for the community as firefighters. Their families are rightly proud of them.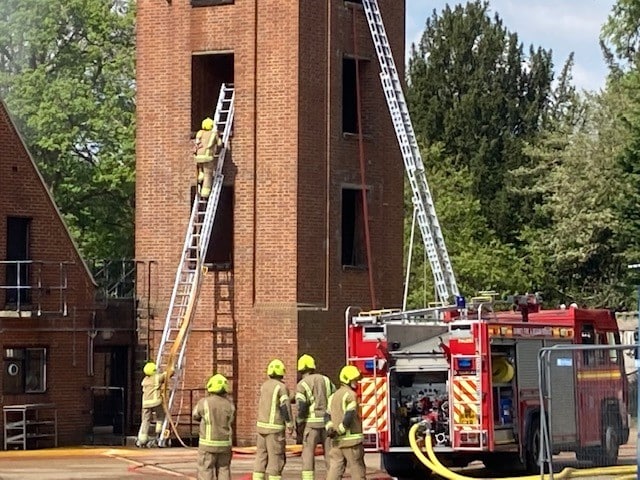 https://www.highsheriffofsurrey.com/wp-content/uploads/2022/04/pass-out-4.png
847
1372
Olivia Lucas
https://www.highsheriffofsurrey.com/wp-content/uploads/2021/07/TheHighSheriffofSurrey-weblogo.png
Olivia Lucas
2022-04-24 13:16:00
2022-04-25 13:19:59
Firefighter Passing Out Ceremony, Wray Park Centre Reigate