QEF Leatherhead Care and Rehabilitation Centre
Queen Elizabeth's Foundation for the Disabled came into existence almost 87 years ago, in June 1935 when HM Queen Elizabeth the Queen Mother (then HRH the Duchess of York) opened the charity's first premises. Their new Care and Rehabilitation Centre is a remarkable place which today provides multi-disciplinary neuro rehabilitation for people with acquired brain injuries, are recovering from a stroke, or who have a neurological illness or incomplete spinal injuries. They may stay for a few weeks or for up to 18-24 months, depending on their requirements. Quite a number of people in the Surrey area who suffered a stroke after contracting Covid have come to the Centre.

The CEO Karen Deacon, Leo Visconti the Director of Engagement and Partnerships and Wendy Doyle the Project Director, generously gave two hours of their time to show the High Sheriff and his wife around the remarkable Care and Rehabilitation Centre which was officially opened by HRH The Countess of Wessex on 24th June 2021. This is QEF's first new building since 1935. Up to 48 clients may reside here each with an en-suite room. They receive the highest quality of care and treatment from the specialist members of staff.

The architects have provided spacious corridors and rooms for ease of access by wheelchairs and the whole building has been designed and constructed with environmental needs to the fore and mindful of sustainability, with plenty of light, and the use of renewable building materials and solar panels. Each client room has all that is needed to help its occupant to cope and their carers to manage them comfortably. Accessible Technology in every bedroom can perform many operations, for example closing blinds on command. The dining rooms, therapy gyms and therapy areas are spacious and spotlessly kept. Masks are worn by all working in or visiting the Centre. A Pod was placed outside on a lawn last year and this has enabled friends and family to visit their loved one during the restrictions.

There is an increasing need for the treatment the Centre can provide. A Rugby Gala event recently raised nearly £200,000 towards the target of £2.7m needed to fully fund and complete the Centre. The High Sheriff hopes anyone reading this will make a donation to the QEF Edward Guinness Appeal, which needs to raise a further £1m to help the teams provide the exemplary and sought-after treatment required by an increasing number of people with complex difficulties.


QEF provides expert services that enable up to 10,000 disabled children and adults a year to rebuild life skills and be as mobile and independent as possible, so each person can achieve their potential and live the life they choose. It is a place of hope and inspiration.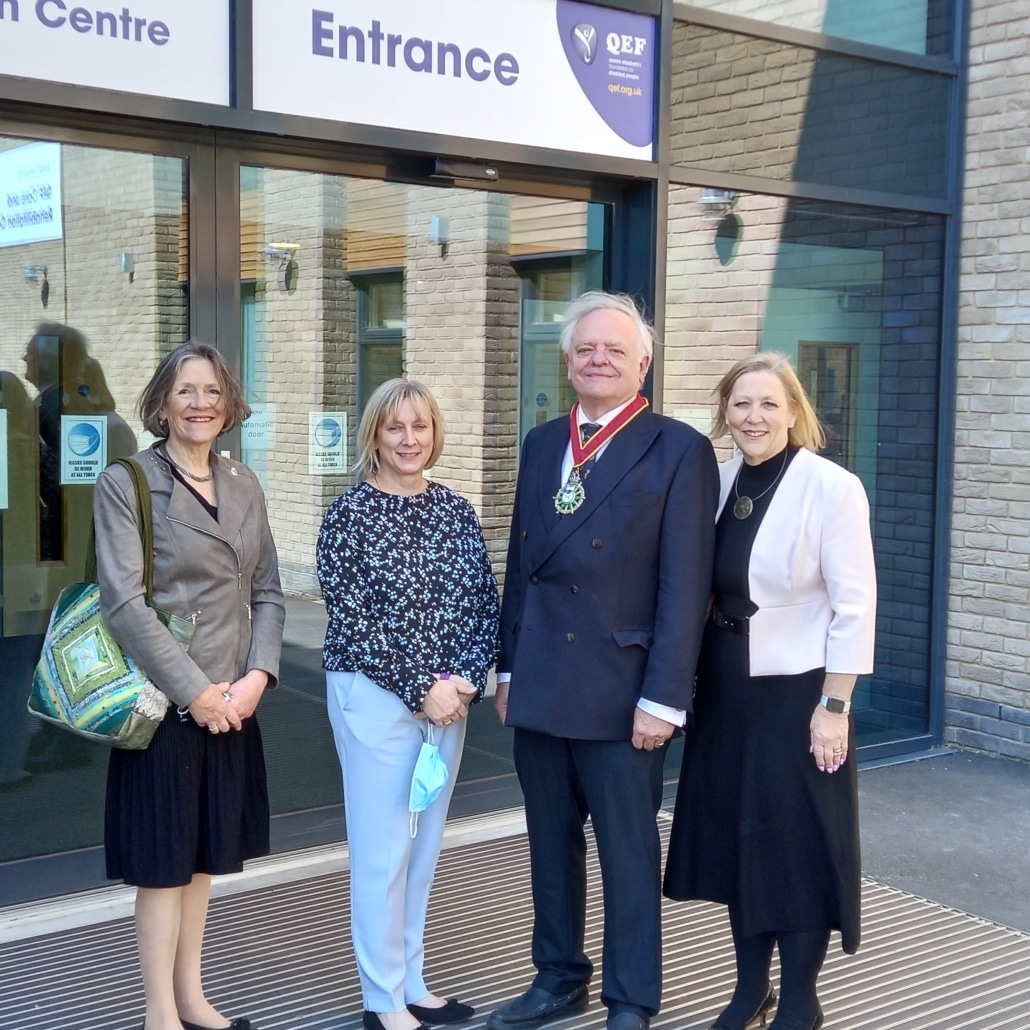 https://www.highsheriffofsurrey.com/wp-content/uploads/2022/04/pic-1-scaled.jpg
2048
2048
Olivia Lucas
https://www.highsheriffofsurrey.com/wp-content/uploads/2021/07/TheHighSheriffofSurrey-weblogo.png
Olivia Lucas
2022-04-21 16:35:00
2022-04-25 16:39:23
QEF Leatherhead Care and Rehabilitation Centre