THE NATIONAL MONUMENT AGAINST VIOLENCE AND AGGRESSION
The presence of the Knife Angel in front of Guildford Cathedral for the month of March was marked by an event on 1st March attended by about 300 people. Further events were held throughout the month.
9th March DEAN COADY OBE
Dean Coady OBE was a paratrooper for 10 years, then served in the Greater Manchester Police for 26 years. He is the MD of Urban Pure Solutions, a company specialising in training for safeguarders, teachers and parents, and he is its Lead Trainer. He spends much of his time talking to teenagers about the dangers of agreeing to deliver packages for people, which contain drugs. This is the pernicious "County Lines" criminal operation. He also explains the risks of having a knife in your possession.
He spoke at the Cathedral to two groups of schoolchildren, over 200 in total. He told them of his tough background, how he came from a criminal family, and as a young teenager was always fighting. But, not wanting to lead a criminal life, he joined the Army. During a fascinating and danger-filled life, he has trained rangers in Africa, including groups of women, who fight the elephant poachers. His talk didn't pull any punches, and included some photographs of knife wounds. He spoke about the law of joint enterprise, and how a person who's present can be convicted of the principal offence, even murder, if they are found to be aiding and abetting or citing or encouraging the violence. He warned against carrying a knife, going out with any person who's carrying one, and even associating with a group out late at night after drinking. Also, he explained the risks of carrying packages, and the dangers of any contact with those drug suppliers who run County Lines. They are always looking for vulnerable young persons to target. Dean Coady has a powerful impact upon his listeners, of whatever age. It is to be hoped that all who had the privilege of hearing him, will heed his warnings.
13th March GUILDFORD AFTER DARK
In the Chapter House of the Cathedral an audience heard four speakers explain what is being done to keep the town safe at night. Reverend Noelle Coe, the Town Chaplain introduced the meeting.
Peter Lambert, the Town Safety Manager of Experience Guildford, spoke first. He explained how he is the chairman of the business crime partnership which works closely with the Police, the Borough Council, the manager of pubs and clubs, and the Street Angels. There has been a Pub Watch in the town at night for 25 years, and it's now at 42 venues. They share information, for example about any person misbehaving. They have schemes to stop anti-social behaviour, and there are 34 accredited licensed premises venues that work together. They can impose bans on those who cause a problem. Anyone found in possession of a knife will be barred from all those venues for life. The work of Experience has greatly assisted in the reduction of offending. They have staff working at the main taxi rank on Friday and Saturday nights, which helps avoid any problems. Each venue has at least one Welfare Champion, trained in First Aid and who looks out for vulnerable people. A lot of work has been done with regard to the spiking of drinks, with a "Spike Aware" campaign.
Ian Ford, the MD of the nightclub Casino is also a Director of Experience. He stated there are 144 CCTV cameras in the town that are constantly monitored and information can quickly be passed around the venues. The Oakleaf charity in Guildford has worked with them and there was a "Safe Bus" scheme at Christmas. People can go to Oakleaf's premises near the station and be looked after.
PC Ryan Soper is a Neighbourhood Specialist Officer who works closely with Peter and Ian. Pub Watch will be linked with Godalming and Farnham. He believes the routine carrying of a knife is not common in the town. Also, County Lines does not appear to be a serious problem in Guildford.
Rev. Coe talked about Street Angels, which began about 15 years ago. Volunteers walk around the town on Friday and Saturday nights between 20.30-4am. They wear a hat and top identifying them as Street Angels and carry rucksacks containing flip-flops, space blankets, phone chargers, sick bags and lollipops. The latter are effective at calming down difficult situations. They have links to the venues and their work results in many fewer calls to the Police and Ambulance Service. People will often open up to them, as they trust them.
There is no doubt that over the last ten years or so, the town has become a safer place at night, and largely because of the liaison work between the above agencies and the Police. This is good for members of the public, because Guildford has a vibrant nightlife, and it's also good for those in business.
15th March THE ROCK CHOIR CONCERT
This excellent choir, ever popular, performed in the Cathedral before about 300 people. The concert raised funds for the Knife Angel.
20th March DR NEVILLE LAWRENCE OBE
The father of Stephen Lawrence spoke to an audience of over 150 at Christ's College School in Guildford. Ever since his son Stephen was murdered by a racist white gang on 22nd April 1993, he has campaigned for justice for his son and for better race relations between the Police and black people. Two of those responsible for his son's murder were tried and convicted in 2003. Dr Lawrence's campaign led to the Macpherson Report of 1998 which made recommendations, most which he said have not been implemented. Dr Lawrence was asked questions by a friend, and then by members of the audience. He spoke softly but firmly, and impressed all, and surprised many when he said he has forgiven those who killed his son. But he still wants justice in regard to others involved in his son's death. He said what happened never goes away. He believes race relations are slowly improving.
21st March SENTENCING CASES IN THE COURT OF THE FUTURE
This Court is a full size replica of a Crown Court and it is situated in The School of Law at the University of Surrey. It is state of the art, where law students can practice as advocates. Three fictional cases, in which four defendants had pleaded guilty, were heard by HHJ Robert Fraser MVO DL, the Resident Judge at Guildford Crown Court and the Hon. Recorder of Guildford. Law students acted as prosecution and defence counsel, arguing about where the cases fell in the relevant Sentencing Council Guidelines for the offences each defendant had committed. After the pleas in mitigation, HHJ Fraser passed sentence on two young men in respect of their involvement in a late night street fight which involved a stabbing; on a man in a "one-punch" manslaughter case following a birthday party at which the defendant and the victim had consumed excess alcohol; and on a young man guilty of coercive and controlling behaviour towards his girlfriend. The court was full and the proceedings were filmed, with a view to being available for showing to secondary schools. I
23rd March THE PRESENTATION OF THE PRIZES FOR THE KNIFE ANGEL ART COMPETITION
At the end of Evensong, after the Installation of the High Sheriff of Surrey for 2023, Tim Wates DL, prizes were awarded to those whose work was judged the best in the competition.
During the month thousands made a special trip to see the Knife Angel, especially after dark when it was illuminated. Many also entered the Cathedral and donations were made to the fund set up to pay for the presence of the statue in Guildford.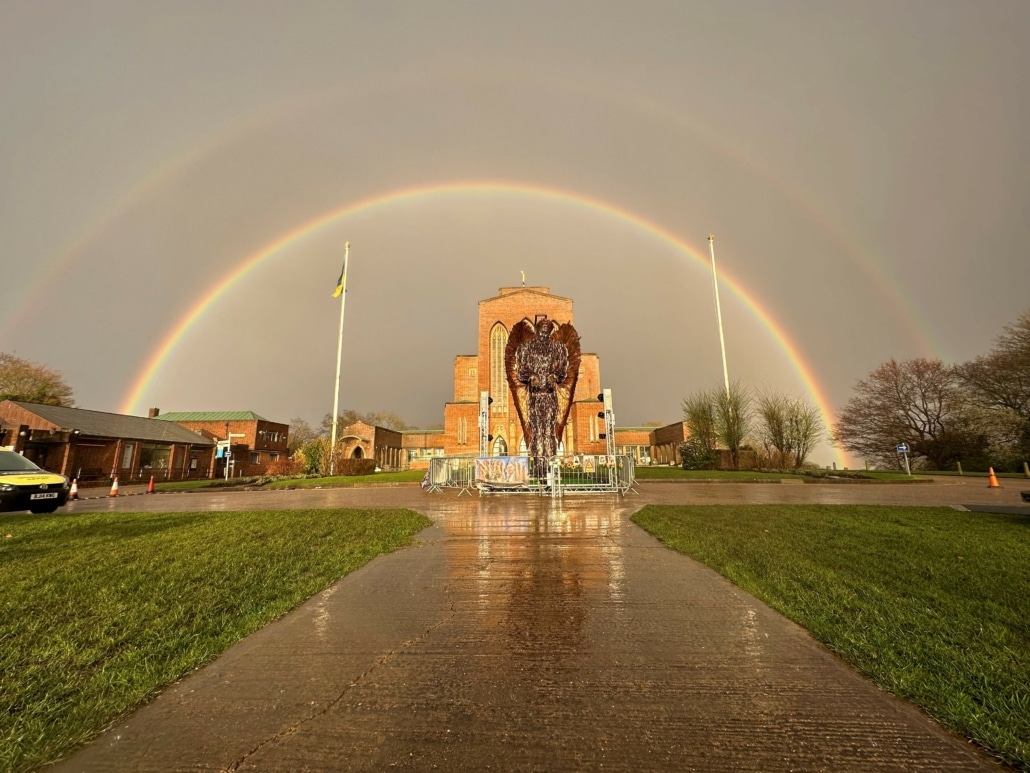 https://www.highsheriffofsurrey.com/wp-content/uploads/2023/03/knifeangel-scaled.jpg
1536
2048
Akiko Design
https://www.highsheriffofsurrey.com/wp-content/uploads/2021/07/TheHighSheriffofSurrey-weblogo.png
Akiko Design
2023-03-27 12:19:36
2023-03-29 11:14:44
The Knife Angel Events