The Surrey Armed Forces Covenant Conference
At the Army Training Centre at Pirbright on 15th March, after a welcome from Helyn Clark, the Chairman of SCC, and from Major Poulton on behalf of the CO Lt Col Shamus Kelly, an update on current deployments and priorities was given by Col John Baynham OBE. The annual conference then focussed on personal experiences of Army life with live or recorded talks from: two teenage children of serving soldiers; the spouse of a soldier; two serving soldiers; a reservist; a recent service leaver and two veterans.
Each talk gave a real insight into service life for anyone not part of it. The effects of frequently moving house and changing school, as well as a need sometimes to cope without one parent for months at a time. A Major and a Captain, both of whom have risen through the ranks and have very successful careers, revealed their love of the Army and their dedication to it: "The Army is about people". A reservist who is employed by SCC, explained how he is able to combine his Army service with his civilian employment. He believes he and his employer benefit from his being a reservist because of what it teaches him, especially about leadership. An officer who retired in 2020 and who now lives away from an Army town spoke about how he's adjusted to civvy life. He's content. An ex-officer, now a gp, described how his background led him to be accredited as a doctor who can help army personnel. Gps can gain this, and it's most useful to have more gps aware of the issues faced by service personnel, whether still serving or retired. Mike Hall, an ex-sergeant, now a Chelsea Pensioner, related his army and civilian history and the pleasure of residing at Chelsea Hospital.
The audience next had the privilege of listening to WO2 Johnson Beharry VC COG describe his early life of poverty in Grenada, his coming to England and getting into some bad ways before he eventually succeeded in joining the Army, the Princess of Wales's Regiment. In some detail he related the two incidents, six weeks apart n 1 May and 11 June 2004, when, with the First Battalion of his regiment, he was under deadly fire in Iraq after the Warrior vehicle he was driving was ambushed. Time and again he returned to the vehicle to carry his injured colleagues to safety. He doesn't himself recall the second incident because he was badly wounded in the head and in a coma for some time. He underwent brain surgery and thanks the RAF for their skill in bringing home from Iraq to Birmingham, needing to fly at low level because of his condition. The bravery he displayed on each occasion was quite astounding, and undoubtedly merited the highest award, the citation reading fir "extreme gallantry and unquestioned valour". He received the VC from HM the Queen in 2005. He endured years of treatment and recovery, including at Headley Court, where at times he felt suicidal. His quite exceptional story was told so modestly. He was very fortunate to survive what he experienced. All present were moved by this very brave man's account of his life and stood to clap him in order to show their great respect for him.
After lunch, Col Patrick Crowley MBE DL spoke about the value of Reserve Service. The Armed Forces Act was then the subject of talks. This was a conference extremely well-organised by SCC and grateful thanks are due to Helyn Clack and those who put it together.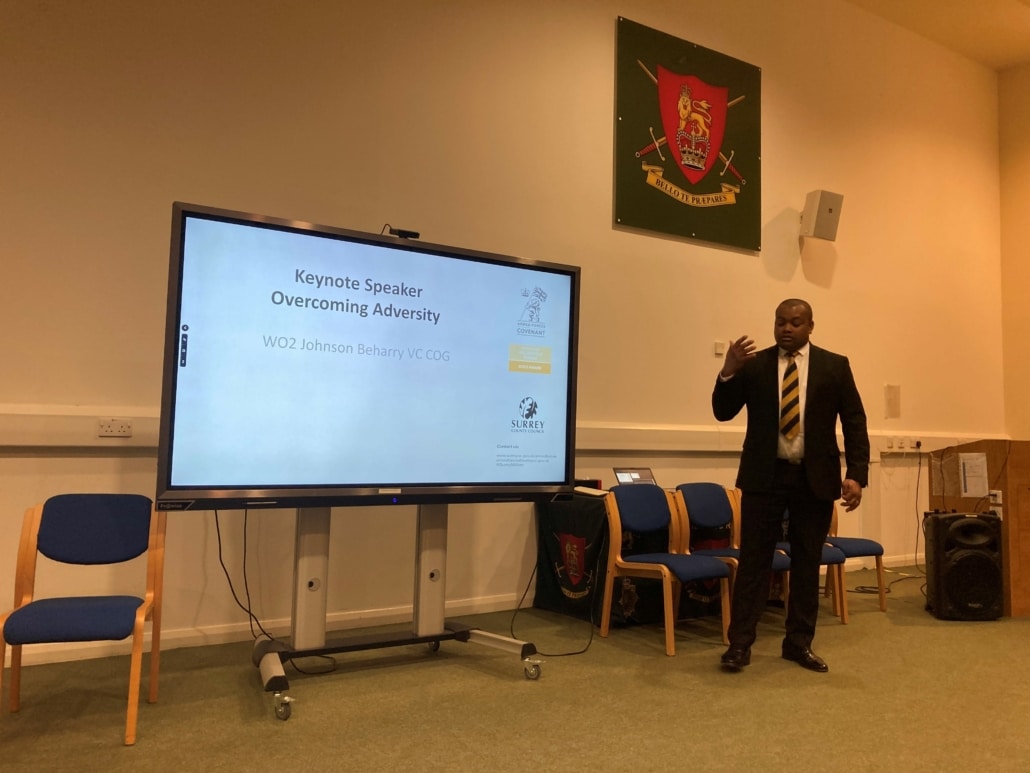 https://www.highsheriffofsurrey.com/wp-content/uploads/2023/03/High-Sheriff-1.jpg
240
320
Olivia Lucas
https://www.highsheriffofsurrey.com/wp-content/uploads/2021/07/TheHighSheriffofSurrey-weblogo.png
Olivia Lucas
2023-03-15 11:03:53
2023-03-16 21:53:36
The Surrey Armed Forces Covenant Conference