The High Sheriff of Surrey visits Royal Surrey
The High Sheriff of Surrey received a warm welcome from our Chief Executive, Louise Stead, and Chair Sue Sjuve on Tuesday as he arrived for a short tour of the Trust.
His Honour Christopher Critchlow, the former Resident Judge of Guildford Crown Court, chatted to teams in the new Echocardiography Department and the HASTE MRI unit, which is due to open to patients next week. The High Sheriff also visited Chilworth Chemotherapy Unit, and the Radiotherapy Department in St Luke's Cancer Centre.
First stop on the High Sheriff's tour was the Echocardiography Department where Siva Ratnatheepan, Head of Echocardiography and Nicola Montalbano explained the work of the team, who deal with around 12,000 referrals a year and help detect coronary heart disease. Siva also shared exciting plans to set up a new echocardiography service at Milford Community Hospital next year.
At the next stop on the tour, the High Sheriff met Wendy Dengate, Radiology Services Manager, and Boby Philip, Specialist MRI Radiographer in the newly built HASTE MRI unit.
HASTE has installed new MRI scanners with a selection of videos for patients to watch during their scan. The unit has been thoughtfully redesigned to put patient experience at its heart, with soothing light displays above patient bays, changing rooms and a special privacy area for patients feeling nervous about their procedure.
As well as focusing on patient experience, the new layout of the HASTE unit has been designed to give staff space to work more efficiently and to facilitate increasing the number of patients that can be seen each day.
The High Sheriff headed to St Luke's Cancer Centre and met Emma Masters, Lead Chemotherapy Nurse for St Luke's who described the work of Chilworth Chemotherapy Unit and showed the nature themed wall art, patients' refreshment area and comfy seating that had been created to turn a clinical space into a more relaxing and welcoming environment.
The final stop on the tour was Radiotherapy where the High Sheriff met Helen Burland, Professional Head of Radiotherapy Services and her team. The High Sheriff was shown how adaptive radiotherapy using artificial intelligence is helping to deliver high precision target radiotherapy treatment for cancer patients and reduce short term and long term side effects of the treatment.
The High Sheriff praised the work of each of the teams he met during his tour, saying: "I take my hat off to you all."
He added: "As someone who has received wonderful treatment at the hospital, it is a real pleasure to meet some of the dedicated members of staff here.

"I learned much from my visit to Echocardiography, HASTE, and Oncology, and my already great appreciation for the work of the doctors, nurses and radiographers at the hospital has grown even more as a result of what I saw and heard today. For a lay person, it is humbling to meet those whose professionalism saves lives, eases suffering and helps progress to be made in the treatment they provide."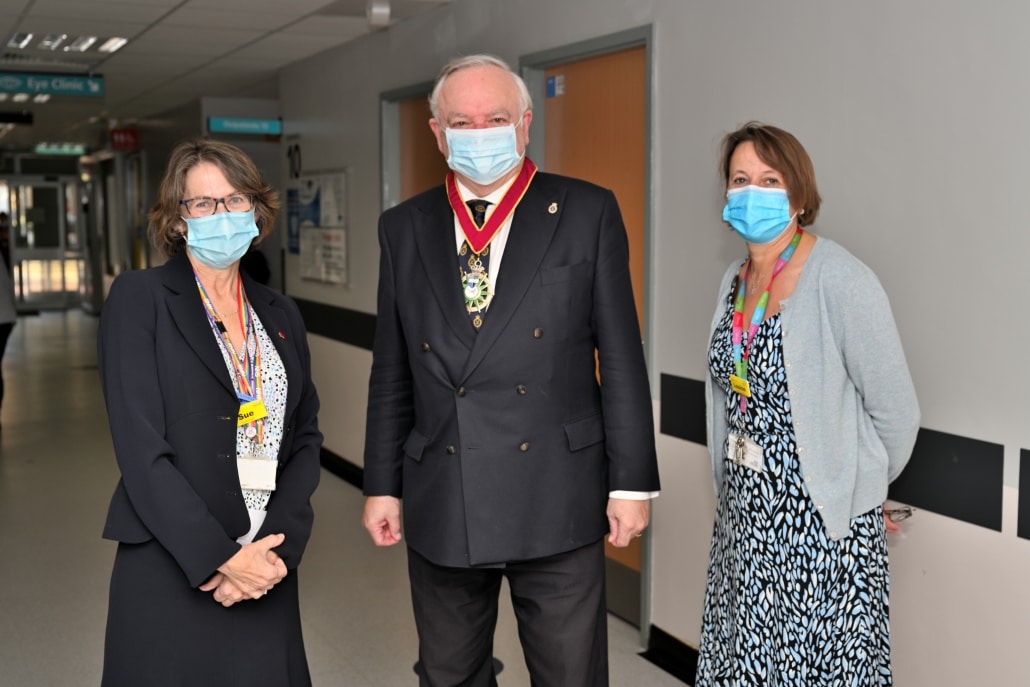 https://www.highsheriffofsurrey.com/wp-content/uploads/2022/10/High-Sheriff-2-002.jpg
1365
2048
Olivia Lucas
https://www.highsheriffofsurrey.com/wp-content/uploads/2021/07/TheHighSheriffofSurrey-weblogo.png
Olivia Lucas
2022-10-25 13:33:00
2022-10-27 13:47:24
The High Sheriff of Surrey visits Royal Surrey