I Choose Freedom – Our New Name
The High Sheriff, whose theme for his year of office is "Against Abuse, For Recovery", was delighted to join the Lord Lieutenant Mr Michael More-Molyneux, the Chairman and Leader of SCC Mrs Helyn Clack and Mr Tim Oliver, Lady Toulson and other guests at the formal launch in Reigate of the new name for Reigate and Banstead Women's Aid on Tuesday 17th May. 
The reason the name has been changed is set out below. 
Charlotte Kneer DL explained that when a survivor makes the choice to come to one of our refuges, when they pick up the phone to call the National Domestic Abuse Helpline, when they speak out to a friend or health care professional, when they seek a safe place – they may not realise it but they are choosing their freedom.
Our charity supports survivors fleeing domestic abuse every day. We raise awareness around domestic abuse and work hard to get funding to keep the doors of our refugees open. Refuges are secret, safe places. They have to be to protect the lives of the residents inside. As a team, we have worked to build a media profile to ensure people know that refugees exist while protecting the families that we support.
These are just a few reasons why we have decided to change our name from Reigate and Banstead Women's Aid (RBWA) to I Choose Freedom!
We wanted to focus on these survivors and their journey. Their choice is to be free from abuse.
We wanted to choose a name that reflects this choice rather than a name that is related to a location, we have refuges across Surrey, and every day we work to ensure that the locations remain a secret.
We wanted to make our name more inclusive – we will soon be starting our inclusion project, more information on that coming soon!
We are incredibly excited to share this big news! For the full announcement please enjoy this beautiful video: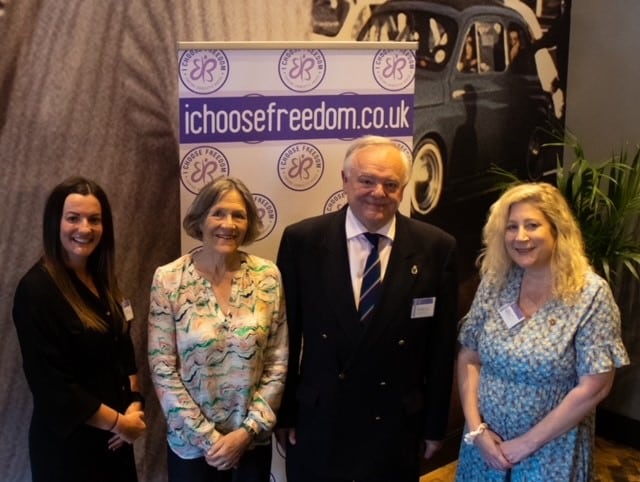 https://www.highsheriffofsurrey.com/wp-content/uploads/2022/05/i-choose-freedom.jpg
482
640
Olivia Lucas
https://www.highsheriffofsurrey.com/wp-content/uploads/2021/07/TheHighSheriffofSurrey-weblogo.png
Olivia Lucas
2022-05-17 21:23:00
2022-05-24 22:11:39
I Choose Freedom – Our New Name