High Sheriff's first summit starts to 'join the dots' on school exclusion
Dr Julie Llewelyn's first summit as Surrey's new High Sheriff built on her theme of the year, 'Every Child Included', by bringing together multiple agencies to discuss what works to keep children and young people in full-time education.
The catalyst for the summit on 2 July was new independent research on the journey to school exclusion in Surrey by Dr Emily Glorney and Natasha Rhoden from Royal Holloway, University of London (RHUL). Their in-depth study pulled together various separate and non-linked databases for the first time, which they cross-referenced manually.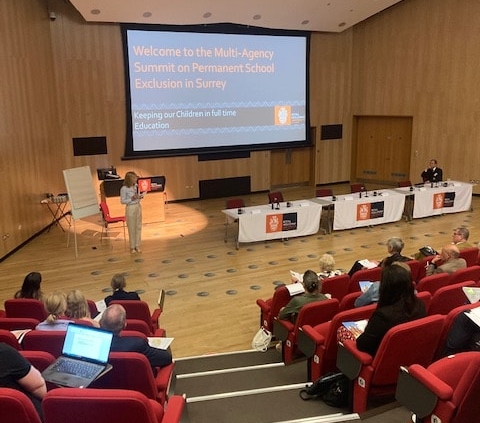 Emily and Natasha shared the results – a marked difference between the different quadrants in Surrey – to the audience of about 60 people at the summit at RHUL. They also discussed the successful approaches in Surrey that prevent children's permanent exclusion from school.
Dr Llewelyn said: "The research builds on the work of two previous High Sheriffs of Surrey – Robert Napier and Jim Glover."
The summit, which followed Covid-19 guidelines, included representatives from education, Surrey Police, Surrey County Council, and the third sector, providing evidence-packed solutions that inspire a way forward and have already resulted in positive news.
Guest speaker Maureen McKenna gave one of the most striking presentations, showing how Glasgow City Council has almost eliminated permanent school exclusion by getting it right for every child.
Maureen said: "If we are going to create a society that we want for tomorrow's children, then we need to invest in today's children."
Dr Llewelyn thanked the speakers and delegates for helping to 'join the dots' and the discussions and breakout groups that identified five action points to keep children in education in Surrey in future.
Evidence-packed solutions inspire way forward
At the summit, speakers from Surrey Police, Surrey County Council (SCC), Surrey Care Trust and Surrey Alternative Learning Provision (SALP) shared their promising approaches to preventing school exclusion and evidence-packed solutions that are helping children struggling with school attendance.
Since the summit and following several discussions and meetings, SCC has now agreed to fund SALP, which the research showed had prevented permanent exclusions through a coordinated approach.
The High Sheriff said: "There is still much to do, but this is a momentous first step, and I am hugely grateful to all concerned who have made it happen."
Leaders pledge to take five steps
Agencies at the summit have committed to taking five steps to build on the foundations their organisations have already laid and make real progress towards equality of access for all children to education.
The five steps are:
1. The moral purpose of policy: adapting a more nurturing approach with more focus on relationships.

2. Using the RHUL evidence to develop precision intervention tools for Surrey that facilitate early and timely intervention.

3. Getting rid of the fragmentation that exists in Surrey around exclusion practice (some quadrants have double the number of exclusion than others) and spreading the SALP approach.

4. Making sure the criteria used for exclusion are more consistent across Surrey and spreading the use of the Surrey Permanent School Exclusion Threshold document. Also, developing a new training pack for governors who, often being unaware of alternative options, rarely challenge an exclusion decision.

5. Timely sharing of data about a child to help professionals provide the best support. Adding a 'knowledge hub' to help solve the difficulty in finding out what support is available locally.
A second summit next year, funded again by Surrey County Council, will explore the results from this year's event to inform the next steps.
---
Agenda
Royal Holloway Research Summary
Presentations
https://www.highsheriffofsurrey.com/wp-content/uploads/2021/07/IMG_2526.jpg
522
480
Akiko Design
https://www.highsheriffofsurrey.com/wp-content/uploads/2021/07/TheHighSheriffofSurrey-weblogo.png
Akiko Design
2021-07-02 07:17:00
2022-03-29 14:54:51
High Sheriff's first summit starts to 'join the dots' on school exclusion