The Presentation Of The Elizabeth Cross And Memorial Scroll
Brigadier J G E Stenhouse DSO MBE, Commander 11th Security Force Assistance Brigade, hosted this event at Aldershot Garrison Officers' Mess on 15th November, when the Lord Lieutenant of Hampshire Nigel Atkinson Esquire presented the families of three soldiers with the Elizabeth Cross and a Memorial Scroll. The cross is made of sterling silver and is upon a representation of a laurel wreath with the floral emblems of England, Scotland, Wales and Ireland.
Since 2009 Elizabeth Crosses and Memorial Scrolls have been given to the next of kin of Armed Forces Personnel killed on operations or as a result of terrorism since 1/2/1948, or after 27/9/45 in Palestine. (Any personnel killed between the end of WWII and 1/1/48 are recognised as serving in WWII).
Her Majesty said:
"This seems to me a right and proper way of showing our enduring debt to those who are killed while actively protecting what is most dear to us all. The solemn dignity which we attach to the names of those who have fallen is deeply engrained in our national character. As a people, we accord this ultimate sacrifice the highest honour and respect. I greatly hope that the Elizabeth Cross will give further meaning to the nation's debt of gratitude to the families and loved ones of those who have died in the service of our country. We will remember them all."
The families were those of:
Major Edwin Alexander Andrews, formerly of the Royal Regiment of Artillery who died on 30th October 1958 in Cyprus.
Corporal Andrew George McIlvenny, formerly of The Corps of Royal Engineers, who died on 8th June in 1982 in the Falkland Islands.
Private Peter John Davis, formerly of The King's Shropshire Light Infantry who died on 17th November 1951 in Korea.
The receipt of the Elizabeth Cross and the Memorial Scroll means a great deal to the families of those who died, however long ago the death occurred. It is tribute and a source of pride and comfort for them.
A next of kin of the member of the Armed Forces who died may apply for the Elizabeth Cross to be awarded.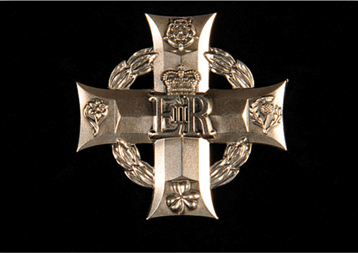 https://www.highsheriffofsurrey.com/wp-content/uploads/2022/11/new.png
253
358
Olivia Lucas
https://www.highsheriffofsurrey.com/wp-content/uploads/2021/07/TheHighSheriffofSurrey-weblogo.png
Olivia Lucas
2022-11-15 10:19:16
2022-11-21 23:12:57
The Presentation Of The Elizabeth Cross And Memorial Scroll