Women's Support Centre (Surrey) based in Woking
On 7th November the High Sheriff and his wife met Camilla Edmiston, the Community Safety Manager for Woking Borough Council, and Leanne Spiller, the Manager of the Women's Support Centre. 
For over 10 years, women living in Surrey who are in need of support have been able to find help from the Group's trained counsellors who operate from the centre's location in central Woking. Whether a woman needs assistance because of suffering from drug or alcohol addiction, domestic abuse, or having become involved with crime, the group can counsel, advise, and support her to change her life for the better.
Some women may seek support from the Centre while under a probation order, or while on bail, or under the Checkpoint programme. Checkpoint is an out-of-court option that is jointly delivered by Surrey Police and partners, including the Women's Support Centre. A Panel is held weekly where members decide on the appropriate outcome, for example, whether that is a Checkpoint, Checkpoint Plus, Conditional Caution or no further action. The duration of the Checkpoint intervention, and what sessions are required are assessed according to the individual case. The reoffending rate of those who've undergone this tailored programme is only 6%.
In 2021 c.900 women were given support, of whom around 80% had identified as currently, or previously suffering from mental ill-health, substance misuse AND domestic abuse.
The Women's Support Centre offers a number of 1:1 services and groups i.e., 1:1 Generic Support; Drop-in groups; art groups; 1:1 Domestic Abuse support; the Freedom and Phoenix Programmes; Child and Adolescent to Parent Violence and Aggression group (CAPVA); 1:1 Substance Misuse support; Substance Misuse and Recovery Toolkit (SMART) groups; Breakfast Club (jointly run with the Probation Service) and Checkpoint Plus. The Staff team comprises of specialist and trained women including paid staff, volunteers, trainees, and students.
The Women's Support Centre premises contain some rooms where confidential Humanistic counselling, that is person-centred and Trauma-informed, is offered. These are also used for 1:1 sessions for all services within the Centre. There is also a larger room for group meetings and art classes.
Each counselling session lasts 50 minutes, with the option of up-to 26 sessions. This is following a detailed assessment with a qualified counsellor and a process where a client is matched with the best person to work with her. The counsellors, and all staff at the Women's Support Centre, are women, some of whom have 'lived experience' themselves. There is no cost to the client for the therapy sessions, and the Centre can support with travel expenses to avoid barriers to attendance.
Many factors can result in a woman needing support from a specialist service, or becoming involved with the criminal justice system, both as someone being subjected to it, or at risk of such, and those considered as having offended. Sexual violence or abuse may have led to arrests, hospitalisation or substance use and thereby becoming involved with the Police.
There are two substance misuse groups a week, one face2face and one virtual. The groups are led by Womens Centre Facilitators and Experts by Experience.
There is an evident need for counsellors trained in working with those who have been subjected to coercive control, which is now better understood and widespread, and which impacts as much upon the women and children in the family as physical violence and other forms of abuse.
Also, vital work is needed to support children who have witnessed the abuse, or been abused themselves, and to help avoid a Child Protection Order being made unless absolutely necessary. A better understanding of how coercion and control impacts upon a woman is needed to support sustainable change and reduce victim blaming. The Women's Support Centre staff are trained to deliver Trauma-informed training to colleagues around anti-victim blaming practice and are keen to support professionals around Surrey to improve outcomes for woman, children, and families.
There are close links with the Probation Service and there is a weekly breakfast club for probation (and non-probation) clients across Surrey. Jointly, the Centre and the Probation Service aim to establish a safe, women's only reporting space and increase attendance and support as well as a reduction in reoffending.
The Centre continuously strives to be client led and has a focus/steering group established. Peer mentoring would be a great assistance to the team, and it would be helpful if there were funds to pay for a co-ordinator to oversee a mentoring scheme for women, supported by current clients who are able to provide counsel to others due to their own experiences.
The Centre is already supported with funding from Surrey County Council Public Health and the Office for the Police and Crime Commissioner, with additional support from NHS England and the Northwest Surrey Alliance. Both Camilla and Leanne are raising funds for the Centre and are currently seeking grants from the National Lottery and Ministry of Justice, among others.
Some women gaining support and attending the Centre, have experienced such significant trauma that they require longer term support. With this in mind, there is no fixed time limit for clients to engage. To all services with the Centre, women may self-refer, or can be referred by statutory, non-statutory or voluntary agencies/organisations. The Centre and the team aim to combat obstacles like travel and therefore offer outreach and travel costs where needed.
This immensely valuable centre for support for women assists not just the women, but the Police, probation officers and social workers.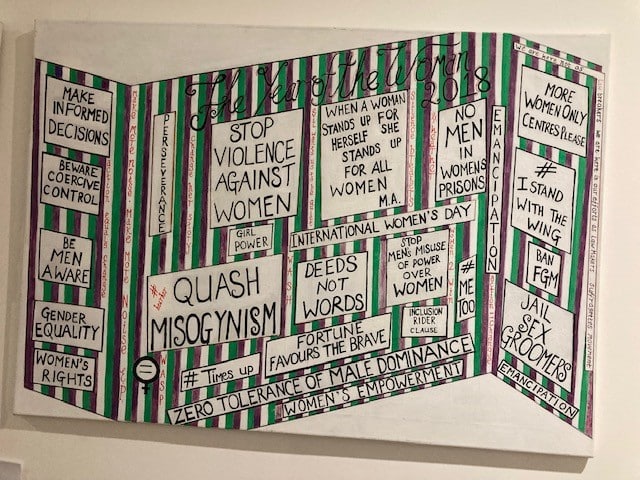 https://www.highsheriffofsurrey.com/wp-content/uploads/2022/11/1.jpg
480
640
Olivia Lucas
https://www.highsheriffofsurrey.com/wp-content/uploads/2021/07/TheHighSheriffofSurrey-weblogo.png
Olivia Lucas
2022-11-07 14:22:39
2022-11-11 14:30:43
Women's Support Centre (Surrey) based in Woking