Catalyst is a Surrey charity which specialises in providing mental health, drug, alcohol and specialist outreach services. The High Sheriff visited their premises at the Moorcroft Community Centre, Westfield, Woking on 28th September and met some of their team: Sue Murphy CEO, Clem Parker Chief Operating Officer, Jill Hagan Executive Support Officer, Natasha Coutts Safeguarding Manager, Gemma Johnston Communications and Fundraising Manager, Khalda Kusar Shifa Project Head, Saima Salman Shifa Team Leader and Warren Rockett the Chair of the Board of Trustees. Across its 20 services, it has a budget of £3.6m, a staff of 136 and 70 volunteers.
Mental Health and Wellbeing Community Support
Catalyst provide wellbeing activities, 1-1 support, interest groups, early intervention, crisis support and access to volunteering opportunities to support mental health and wellbeing across Surrey.
Community Connections Surrey is for working age adults (16+) who would like to improve their mental health and well-being. Mary Frances Trust, Richmond Fellowship and Catalyst are the three main providers of this service across the county. They accept self-referrals, and referrals from GPs and other organisations. They can give individual support and goal setting; run physical well-being classes, self-development courses, social cafés and community groups. Catalyst are the biggest lead provider for Community Connections Surrey in the county and subcontracts work to other charities, including Oakleaf, the Hope Hub, Mary Frances Trust, Canterbury Care Centre, Guildford Action and Shifa Network.
GPimhs / MHICS – Catalyst works alongside GPs and Mental health practitioners in 70 GP surgeries across Surrey, with 13 primary care networks. When a person presents to the GP needing support with their mental health and wellbeing, Catalyst Community Connectors can provide patients with extended 30 minute appointments to talk about their mental health and wellbeing. Each patient is then assessed at staff meetings with the GP and mental health practitioner to decide the best action to take.
Young Adult Safe Haven – In partnership with Oakleaf in Guildford, Catalyst help deliver the Young Adult Safe Haven (YASH). This service provides a space where 18-25 year olds can talk openly and confidentially about feelings and emotions. The team consists of two new Young Adult Support Workers who engage with attendees, provide emotional support if needed and signpost as required. People can drop into the Young Adult Safe Haven during the opening times of 5pm – 9pm, 7 days a week – no appointment needed.
Safe Havens – A service in partnership with Surrey and Borders NHS Foundation Trust provides 5 Safe Havens across Surrey where people can visit for out of hours mental health crisis support. Safe Havens are located in Aldershot, Woking, Guildford, Epsom and Redhill. Catalyst help deliver the service in the Aldershot, Woking and Guildford locations. Each Safe Haven is open from 6pm – 11pm 365 days a year, with Woking open longer on weekends and Aldershot open longer on weekends and Bank Holidays. People can drop in to use the service, with no appointment needed. It is staffed by mental health professionals.
SUN (Service User Network) – SUN is an easy to access community-based peer support service for adults experiencing difficulties with complex emotions often associated with personality disorder. SUN offers access to regular peer support groups where people can talk about their experiences and offer one another help and advice. Groups are facilitated by a clinician and a peer support worker with lived experience of mental health issues.
Future planning for mental health services
Sue Murphy chairs the Adult Mental Health Alliance, the Shadow Board comprising VCSE colleagues and SaBP and Surrey County Council who hope to develop a model similar to that at Surrey Mindworks, and thus be able to gain extended contracts and work in partnership with other organisations, providing a multi-disciplinary approach. Its biggest area of work is in within mental health services, with expectations that the workload could increase by 35% by 2026. It is more and more apparent unfortunately, how great the need is for people to access mental health services. Lockdown and the pandemic increased the size of the problem among all age groups.
Drug, Alcohol and Specialist Outreach
Catalyst are currently supporting 180 people affected by drug and/ alcohol use. The majority of clients are aged 30-45 but they have clients from aged 18 to people in their 80's. Most of Catalyst outreach services continued throughout lockdown to help support vulnerable people within our community.
Reach Out Counselling – Catalyst provide up to 12 weeks of free counselling for people affected by drug and/alcohol use. Counselling can help explore past and present life events which are linked to drug or alcohol use, work with difficult thoughts and feelings and help people develop strategies to improve your mental health and wellbeing. The counselling can be accessed face to face, over the telephone or online. They accept self-referrals and referrals from other organisations and GPs.
Criminal Liaison and Diversion Service – this service providesearly intervention and support for those who come to the attention of the criminal justice system in Surrey. They work closely with probation and Surrey Police.
Cuckooing – The specialist Outreach Team provides support for vulnerable adults affected by cuckooing, a form of crime in which drug dealers take over the home of a vulnerable person in order to use it as a base for drug dealing. The team can respond rapidly when called and help people build resilience to prevent it from happening again.
Substance Misuse Outreach – Catalyst work in partnership with local homeless shelters in Woking (York Road Project) and Guildford (Host) and outreach to the homeless community. Their outreach workers help build relationships and work with individuals to engage with appropriate services.
The amount of work being done by this charity is not just invaluable and impressive but also vital and it's growing in its extent. The High Sheriff and his wife learnt a great deal about the increased need of people in Surrey for the services Catalyst and its dedicated team provide. They thank all involved in the charity, which plainly has not just skilled workers and volunteers but very good governance.
To find out about all the services Catalyst provide, please visit: www.catalystsupport.org.uk/about/  If you would like to support Catalyst and the great work they do, please visit   www.catalystsupport.org.uk/fundraise/ for ideas on how you can help. They are doing a charity abseil at Guildford Cathedral next May 2023!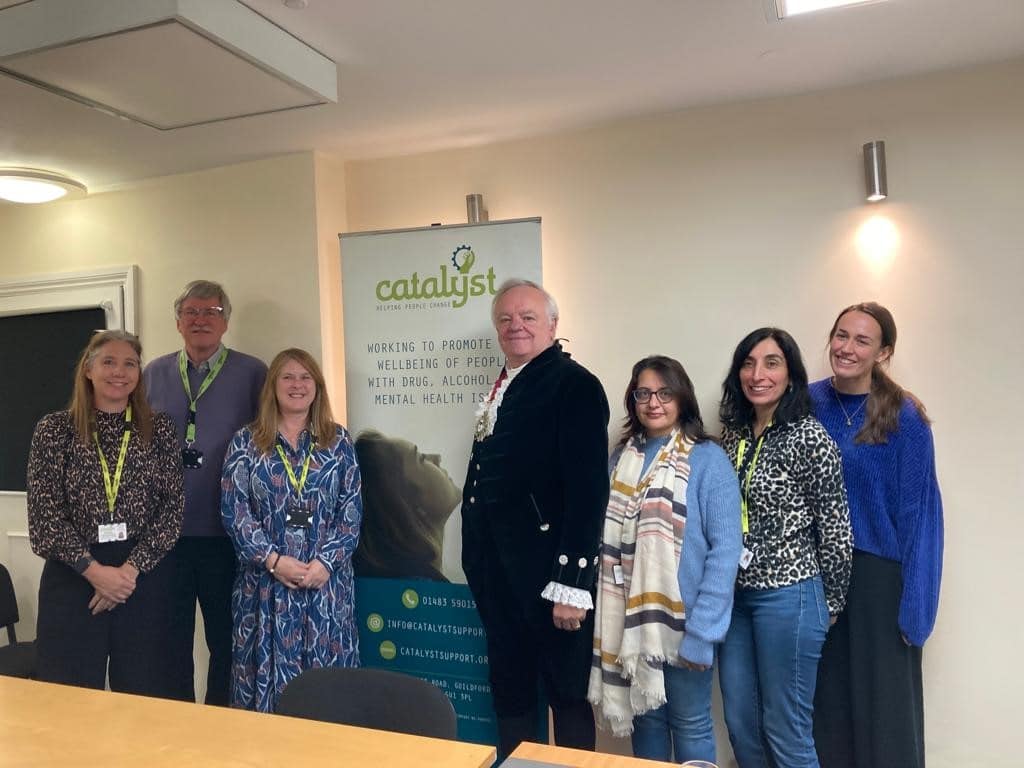 https://www.highsheriffofsurrey.com/wp-content/uploads/2022/10/1.jpg
768
1024
Olivia Lucas
https://www.highsheriffofsurrey.com/wp-content/uploads/2021/07/TheHighSheriffofSurrey-weblogo.png
Olivia Lucas
2022-09-28 11:07:00
2022-10-06 11:09:54
A Visit To Catalyst