Over 4,000 Surrey Scouts and Guides aged between 10-14 enjoyed three days of fine weather at the triennial camp at the South of England Showground at Ardingly in West Sussex. The size of the event necessitates going out of Surrey to a venue that is sufficiently large and secure to accommodate everyone.
There were over 100 different activities for them to enjoy, all under the supervision of older scouts and guides. Every Scout Troop or Guide Unit provides one or more activities. From outdoor activities such as the aerial runway, abseiling, climbing, chariot building, archery, and an air rifle range, to indoor games and experiences such as cooking, key ring making, computer skills nail painting, boys and girls undertake new challenges, testing themselves and learning many different skills. There was a small Army group present, and crawling under camouflage nets looked to be popular. So were The Black Hole and the Cave bus.
The High Sheriff, three of Surrey's Mayors and other guests including the Lord Lieutenant's Cadet Samuel Tough, were welcomed onsite by Katy Cozens, who ran the administrative side, and Paul Iverson, Scoutabout Event Leader and Assistant County Commissioner. They were then shown around the site. Richard Ayears the Site manager, a former firefighter who has given many years to scouting, gave the High Sheriff and Mayor of Woking many insights into the benefits of scouting. The children and young persons were plainly having a great time.
The High Sheriff was delighted to be invited at short notice ("Be Prepared!" came to mind!) to say a few words after enjoying tea and a delicious piece of fruit cake, and spoke about the need for Surrey's youth to have such opportunities for development and enjoyment, especially after the difficulties of the past two years. He thanked the Scoutabout Team and the Leaders for doing so much to enrich the lives of young persons week in-week out as well as at this remarkable event, which requires a huge amount of planning and supervision. It is a most impressive operation and one that brings happiness, benefits and lifetime skills to so many.
The High Sheriff and Mrs Critchlow thoroughly enjoyed their visit and meeting and chatting with Katy, Paul, Joe Rogerson (County Commissioner), Liz Brown (Assistant Chief Guide), Hannah Roberts (County Commissioner Surrey West) and Ann-Marie Vinicombe (DC Farnham).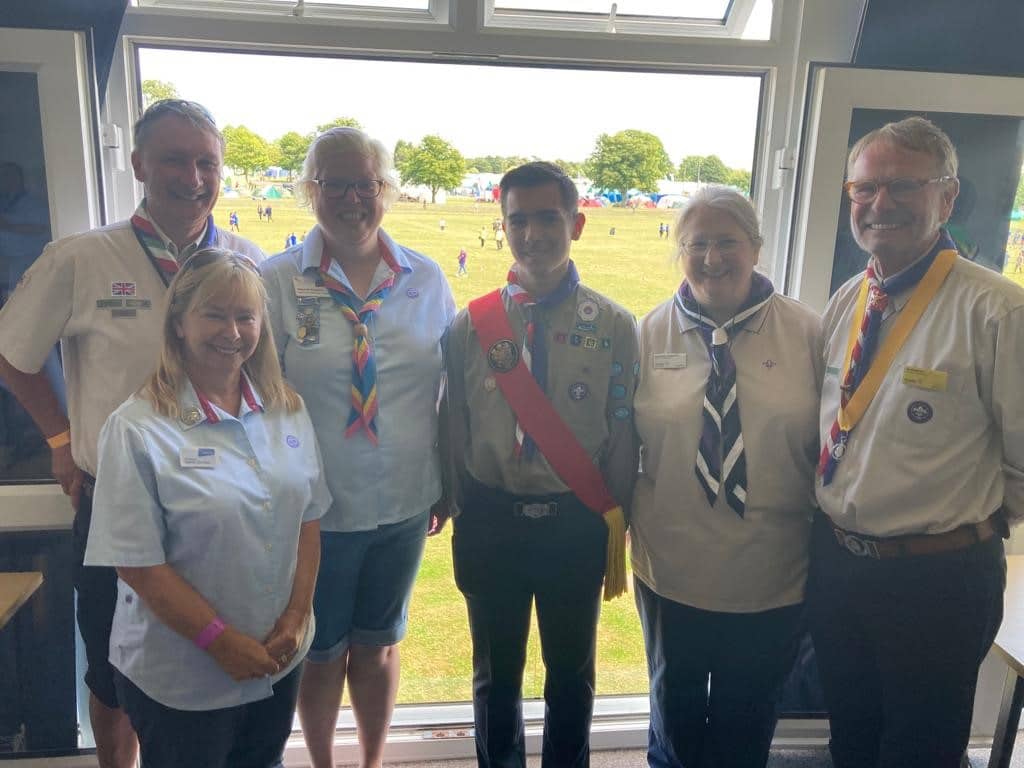 https://www.highsheriffofsurrey.com/wp-content/uploads/2022/07/1-1.jpg
768
1024
Olivia Lucas
https://www.highsheriffofsurrey.com/wp-content/uploads/2021/07/TheHighSheriffofSurrey-weblogo.png
Olivia Lucas
2022-07-02 13:55:00
2022-07-04 14:17:21
Scoutabout