Tadworth Primary School – Always 'Inclusive' (In Spite of the Challenges!)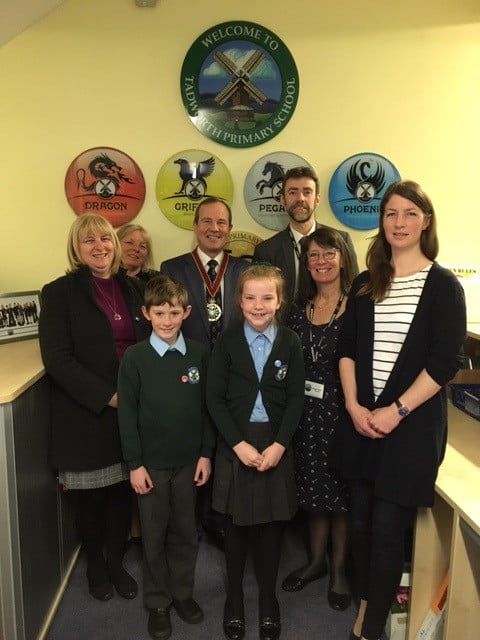 Following the productive discussions around tackling the complex issue of exclusions of pupils from schools at the recent Conference of Surrey Primary Headteachers, Justin (back), Headteacher, was keen for me to visit Tadworth Primary School to meet Governors Maggie (Chair of Standards Committee, second right) and Helen (Chair of the Resources Committee, left), to discuss the challenges they face as they determinedly support the impressive teaching team in their focus on the inclusion of all pupils, whenever possible. Fiona, (Deputy Head and Inclusion Leader, right) and Hilary, (Bursar, back left) also explained the often bewildering and unintended consequences of being such a successful school in terms of inclusion. Justin highlighted one strange example – the intended new build replacement of a very old building cannot – under the formula applied – apparently include the current, highly effective work spaces housed there which allow the staff to successfully teach and develop the pupils who struggle in the normal classroom or playground environment. Appeals to common sense at a regional and national level will surely prevail.
In the meantime, the two inspirational School Ambassadors (above) explained every detail of Tadworth Primary School as we enjoyed a tour of the entire site and were able to describe specific and compelling reasons why 'inclusion' of all of their friends is so important to their community. We must all support the Governors and Teachers of this successful school as they endeavour to maintain their 'inclusive' approach.
https://www.highsheriffofsurrey.com/wp-content/uploads/2021/09/4bf141_41a9620bcab94700af6a7fa269aa1d55-mv2.jpg
640
480
Akiko Design
https://www.highsheriffofsurrey.com/wp-content/uploads/2021/07/TheHighSheriffofSurrey-weblogo.png
Akiko Design
2019-04-02 15:33:48
2022-03-29 15:44:37
Tadworth Primary School – Always 'Inclusive' (In Spite of the Challenges!)