'Democracy Week' at Hythe Community Primary School
Leadership Team Support, Liz Gibson, invited me to meet the pupils at a special assembly to explain the role of the High Sheriff, and to announce the winners of the Head/Deputy Head for the day competition. Liz's Democracy Week programme had already enabled the Mayor of Runnymede, Dolsie Clarke, to meet the pupils and prime them with some very challenging questions! The competition for the special 'roles for the day' was really tough, with different manifestos being debated by the pupils and final voting arranged in a very thorough way – just like the elections we adults know so well. The worthy winners were Olivia (right) as Deputy Head for the day, and Lily (left) as Head for the day on Friday. I have no doubt that they will be excellent in their new roles!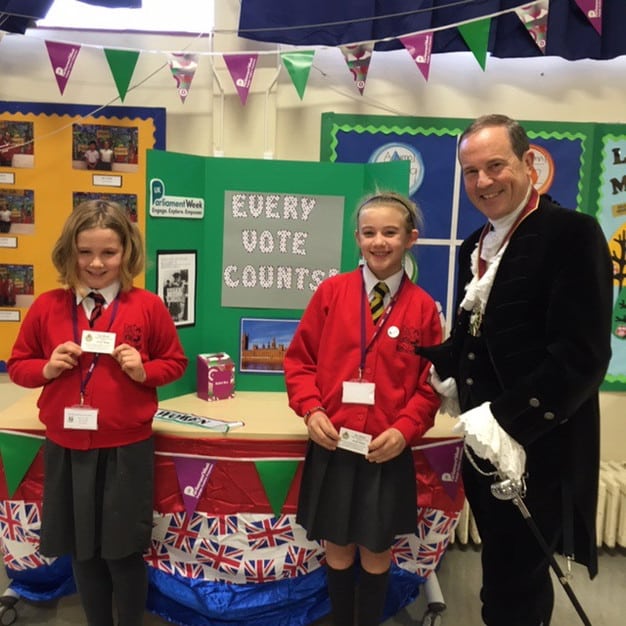 I was asked many searching questions during assembly, and a video is now circulating on twitter showing me struggling to keep up with all of the sharp minds present!
https://www.highsheriffofsurrey.com/wp-content/uploads/2021/09/4bf141_67b307691587430b83edfd99f770d739-mv2.jpg
640
640
Akiko Design
https://www.highsheriffofsurrey.com/wp-content/uploads/2021/07/TheHighSheriffofSurrey-weblogo.png
Akiko Design
2018-11-13 20:47:55
2022-03-29 15:50:10
'Democracy Week' at Hythe Community Primary School